TBC Inc – Charter Financial Statements
cheapest online indian pharmacy for Aurogra or generic

The Financials for 2001 / 2002 are not available via the Texas Education Agency website. I would assume you can request a hard copy. There may be a fee.
These documents can be downloaded by right clicking and saving:

Seroquel TBC Financials 2002 2003

zetia cost per year TBC Financials 2003 2004

TBC Financials 2004 2005 auditor letter

These same documents are available on the Texas Education Agency website.
To locate them yourself click on the "Annual Financial Audit Report" search link below:

Annual Financial Audit Report – link

Here is what you should see: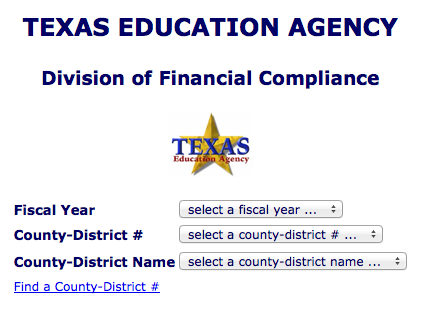 Start by selecting a fiscal year and then wait while the window refreshes
(Records for FWAFA start in 2002 / 2003. Records for TESA start in 2007 / 2008.)
Next enter the County-District #
(FWAFA is 220809 / TESA is 220814)
You shouldn't need to select anything in the last window.
From this point, you can select the PDF document and download it. Note that the default name for each document is the same so you'll have to rename them if you want to download them all yourself.
If you are starting the search process from the Texas Education Agency homepage, you can find the same information (for any charter school in the state of Texas) by doing the following:
Texas Education Agency – website
A-Z Index
Type "A" and select "Annual Financial Audit Reports". This will bring you to the same link as above.
Annual Financial Audit Report – link