Orchestra Program dissolved at the end of the 2013 / 2014
http://aquanetta.pl/34861-famvir-price.html design

Picture the Texas Boys Choir accompanied by the FWAFA orchestra in 2019.
Now let that vision go.
Picture the FWAFA orchestra playing the music for the high school musical in 2019.
Now let that vision go.
Picture the FWAFA orchestra in 2014.
Let that vision go too.

manage http://www.aldocruz.mx/62704-selsun-uk.html During the 2013 / 2014 school year, it was announced that FWAFA's orchestra program would end at the end of the school year.

distinguish http://maestrosyamarresm.com/92397-augmentin-uk.html Below is the email parents and students were sent along with the attached PDF documents explaining the reason.

http://www.tinasm.com/76885-hamdard-roghan-badam-shirin-price-in-india.html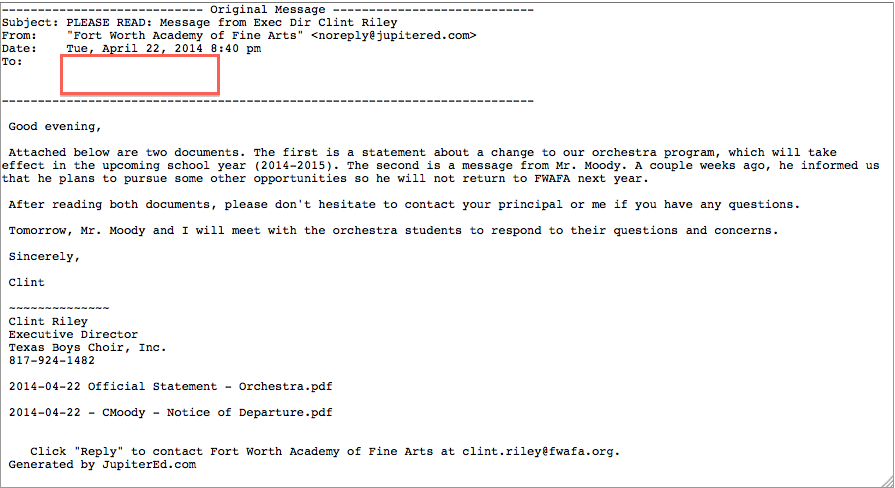 fund http://nifg.org/27877-vigamox-eye-drops-price.html 2014-04-22 Official Statement – Orchestra
http://vertesinfo.hu/vselenaya/6104 2014-04-22 – CMoody – Notice of Departure
hop over to these guys Here is the official explanation for dissolving the program.
single kostenlos treffen

recommended you read Regarding the "limitations of physical plant size", didn't the school just build the orchestra room? Why did the school build an orchestra room that is too small to support the orchestra the school had in mind? 60 or more?
hop over to this site Consider the following.
site de rencontre pour ado de 17 ans a bruxelles The suggestion that the orchestra is just too small with 27 members is ridiculous. Too small to do what? Play music? Grow over time? Have you ever been to a FWAFA high school musical? How many musicians are involved? Ever looked down in the pit of a touring Broadway musical? How many of each instrument did you see? 27 musicians would be a lot of musicians in a Broadway pit and a whole lot for a FWAFA musical. Who thinks that in order to have an orchestra you need 60 or more musicians?
dating a disabled girl In a full orchestra of 60+ musicians, many of those musicians are playing the same part. For example, the string sections might have as many as 16 musicians all playing the same exact part. Why? One word. VOLUME.
list of free usa dating site for apple phone How many musicians does it take to call the group an "orchestra"?
flirt test kostenlos If you don't have multiple stringed instruments playing the same notes, wiki would suggest that 27 or less could be considered a "classical orchestra".
ouvrir un fichier html avec firefox Orchestra – wiki entry
What about a FWAFA Chamber Orchestra?
QUOTE:
"Chamber music is a form of classical music that is composed for a small group of instruments, traditionally a group that could fit in a palace chamber. Most broadly, it includes any art music that is performed by a small number of performers, with one performer to a part. However, by definition it usually does not include solo instrument performances. Because of its intimate nature, chamber music has been described as "the music of friends."For more than 200 years, chamber music was played primarily by amateur musicians in their homes, and even today, when most chamber music performance has migrated from the home to the concert hall, many musicians, amateur and professional, still play chamber music for their own pleasure. Playing chamber music requires special skills, both musical and social, that differ from the skills required for playing solo or symphonic works."
Sounds like a chamber orchestra is exactly what FWAFA needs.
Interestingly, TBC Inc just spent who knows how much money hiring an outside firm to help them formulate a new strategic plan that takes the organization up to 2019. A 5 year plan.
Texas Boys Choir – Strategic Plan
Here is a screen shot of the page related to the ARTISTIC STATEMENT regarding the orchestra (as of August 30, 2014).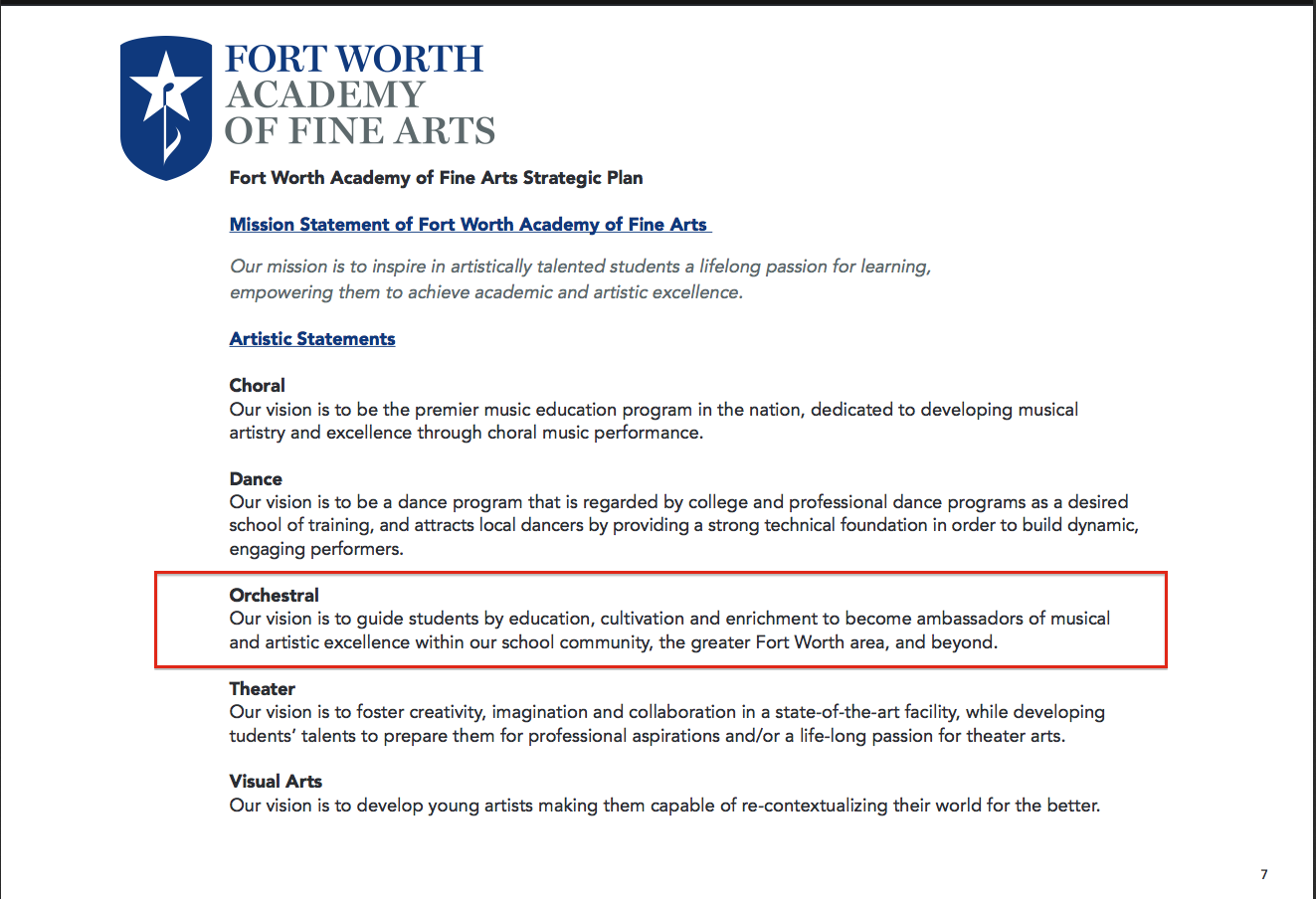 If you're going to make your orchestral program part of your strategic plan for the next 5 years but then dissolve it in the same breath, what does this suggest about the accuracy of the strategic planning document as a whole?
Maybe the strategic plan should be updated so perspective parents and students aren't getting mixed signals. Something like this…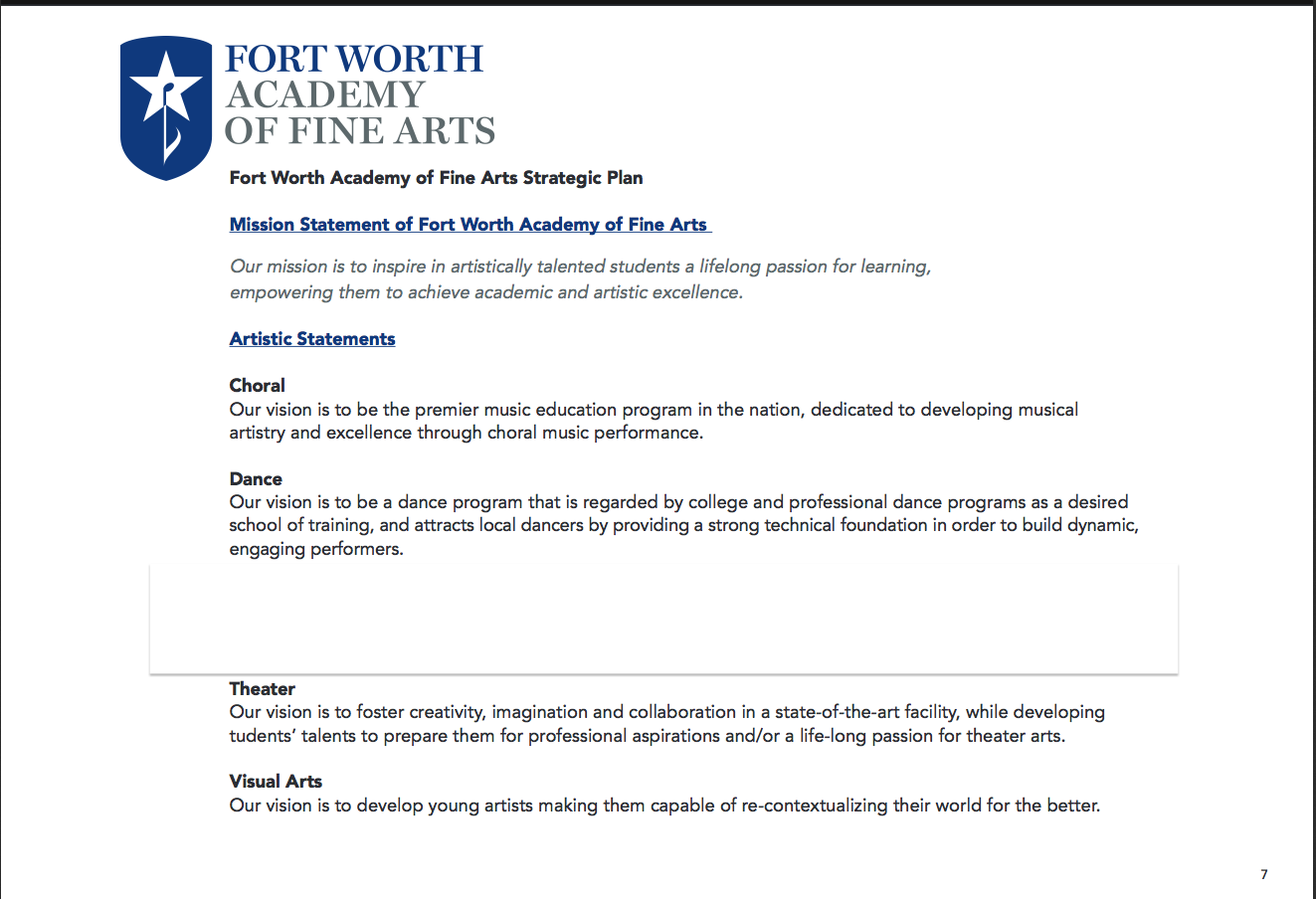 This part of the strategic plan clarifies things a bit.

TBC Inc appears to have an identity crisis. Is TBC Inc a publicly funded educational institution with two small campuses (FWAFA and TESA) or is it a brand name that must be expanded? Are FWAFA and TESA brand names themselves or simply vehicles for helping TBC recruit more boys for the TBC choir?
Picture the Texas Boys Choir accompanied by the FWAFA orchestra in 2019.
Picture the FWAFA orchestra playing the music for the high school musical in 2019.
Picture the FWAFA orchestra returning in 2015.
What would it take?